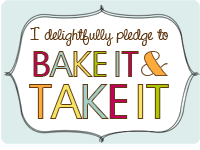 Do you ever have the thought that you should call that friend? Or drop by and visit that neighbor? Do you ever have someone very specific come to your mind and feel the need to do something for them simply to show you care? I do.
Do you ever have these thoughts and then almost immediately dismiss them, sure that you'll look like an absolute fool if you show up on their doorstep for seemingly no reason? Yeah. Me too.
My sister in law
Brooke
and I were discussing this recently, and we are wondering just how many opportunities for service and friendship we are missing out on simply because of our own insecurities. Sound familiar? Yeah. Me too.
So, Brooke came up with the most fabulous idea of The Bake It and Take It Pledge! Since this is a baking blog, we thought it the perfect forum for launching it.
Here's the idea.
The very next time you have that thought of that friend, bake something...anything and take it to them. Don't hesitate. Don't second guess yourself. Just Bake It and Take It. Do this over the next month and watch how your relationships will change. Watch how the simple act of baking some love can open the door to friendships that you never thought possible!
And then, I want to hear about it! Please come back and share your experiences!
So, what are you waiting for? Go on, take the pledge!
P.S.
Please feel free to grab a button for your blog and share the love!